There are times when bears are a concern around camp and having a deterrent like an electric fence helps to give piece of mind.
Ultra Light Bear Fence

Covers 27' x 27' and runs approximately 5 weeks on 2 D cell batteries (not included).  Fits in a storage bag 6" x 20" and weighs 3.7 lbs.  Comes with energizer, 4 fence posts that break down, 3 rolls of 10' poly wire, flagging tape, a hot wire, ground wire and ground stake.

Ultra Light Bear Fence – $475.00

Regular Bear Fence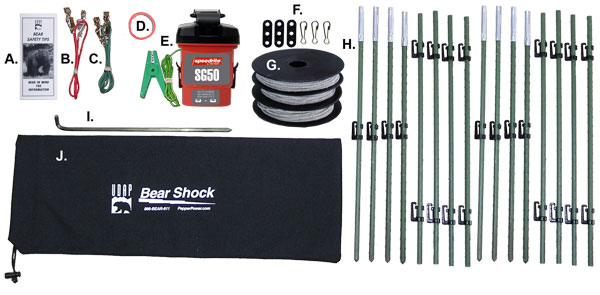 The kit weighs only 5.5 lbs. and protects an area 45′ x 45′.  It comes with an energizer, three 100′ spools of poly wire, eight 4′ poles (these conveniently break down into smaller pieces), a hot wire, a ground wire, ground stake, roll of flagging tape, three gate hooks for easy entry and a water resistant storage bag.  With 2-D cell batteries (not inc.), which can last up to 5 weeks, the fence is capable of delivering 6,000 volts.  The fence can also be used as a portable horse corral.

Bear Fence – $499.00

Electric Fence Tester
Lets you know that the fence is powered.  It's pocket sized in a rugged case.

Fence Tester – $40.00